commercebuild can help you track sales from your affiliates. The sum and substance is to create an affiliate promotion and assign it to a category so that when products are ordered, a miscellaneous or a non-stock line item is sent to your ERP to track sales.
Affiliate Promotion
Set up Affiliate Promotion
Before you can start using affiliate promotion, you are required to setup either a Miscellaneous item or a Non-Stock item in your ERP to store the promotion. Navigate to Promotions > Setting in the web store admin.
This is necessary because the affiliate promotion will be a line item or an invoicing element within the order which will help you track sales for an order.
Create Affiliate Promotion
Navigate to Promotions > Promo and click Create New Promo Code.
If you haven't created a promotion before, see our tutorial on How To Create Promotions.
Under the Promo Discount panel, select the Affiliate (no discount) option to distinguish it as an affiliate promotion.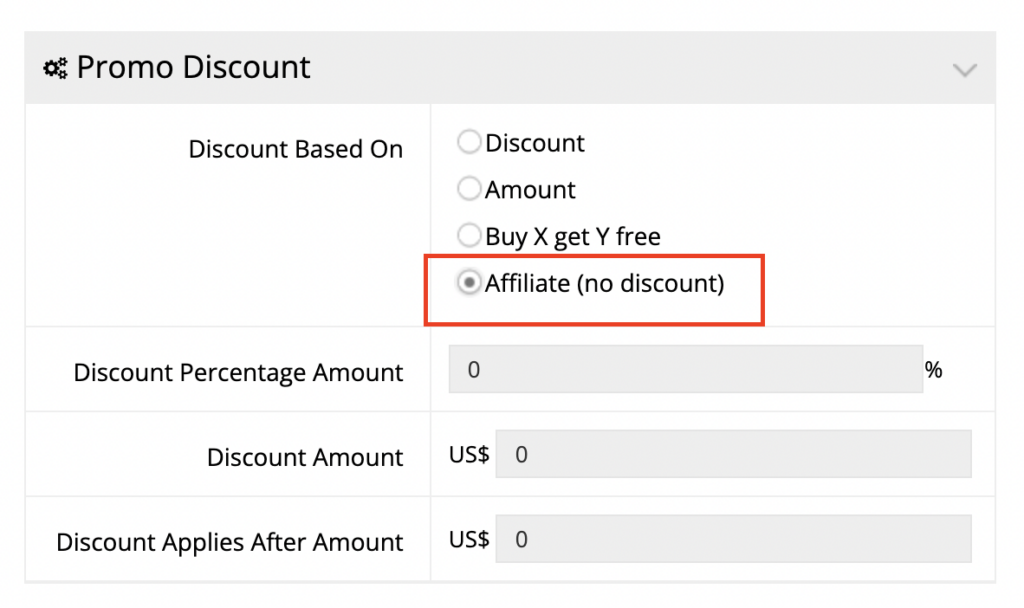 Click Apply to save your changes.
Create Category
In the Admin Dashboard, navigate to Catalog > Categories.
Create a category and assign relevant products to it. For more information on how to assign products to a category, see our tutorial on How To Assign Products To A Category.
Once a category is created, go to the Settings tab and choose the promo code from Auto Add Promotions dropdown which will associate the affiliate promotion with this category.

If you are unable to locate this field, contact Customer Success to enable this add-on feature for your site.
Finally, click Apply to save your changes.
To verify, you may try placing a test order to ensure the affiliate promo code is inserted as an order line item in your ERP.